Corsica Studios
Sat 07.10.23

2100—0500
Rhythm Section x Refuge Worldwide
Our homies at Berlin's Refuge Worldwide are about to embark on a huge European Tour and as part of it we've invited them link up in London for a very special show at Corsica Studios.
In Room 2 we have the legendary Dominican producer Paul St. Hilaire aka Tikiman leading the charge alongside Refuge Boss Richard Akingbehin. Tikiman is a core part of the Rhythm & Sound / Basic Channel imprint which pioneered the dub techno movement alongside Mark Ernestus and Moritz Von Oswald.
Earlier this year Tikiman released his first album since 2006 'Tikiman Vol. 1' on Richard Akingbehin's label Kynant Records, so their performance will also be a celebration of that collaboration.
~~~ MORE ABOUT REFUGE WORLDWIDE TOUR ~~~
From September to December, Refuge Worldwide are taking over some of their favourite clubs and events around Europe, while teaming up with partner crews in select cities.
Before each event, there will be a DJ workshop held at the venue in collaboration with Carhartt WIP. For this show LAANI will give a tutorial, before participants have time to try out playing on a club setup for the first time. Apply to be part of the DJ workshops by filling out the form linked on this page.
SEE YOU IN THE DANCE
Lineup

Tikiman & Richard Akingbehin
Bradley Zero
Stella Zekri
LAANI
MLE
Mali-I [LIVE PA] + MCs: Natty Wylah & C. Roots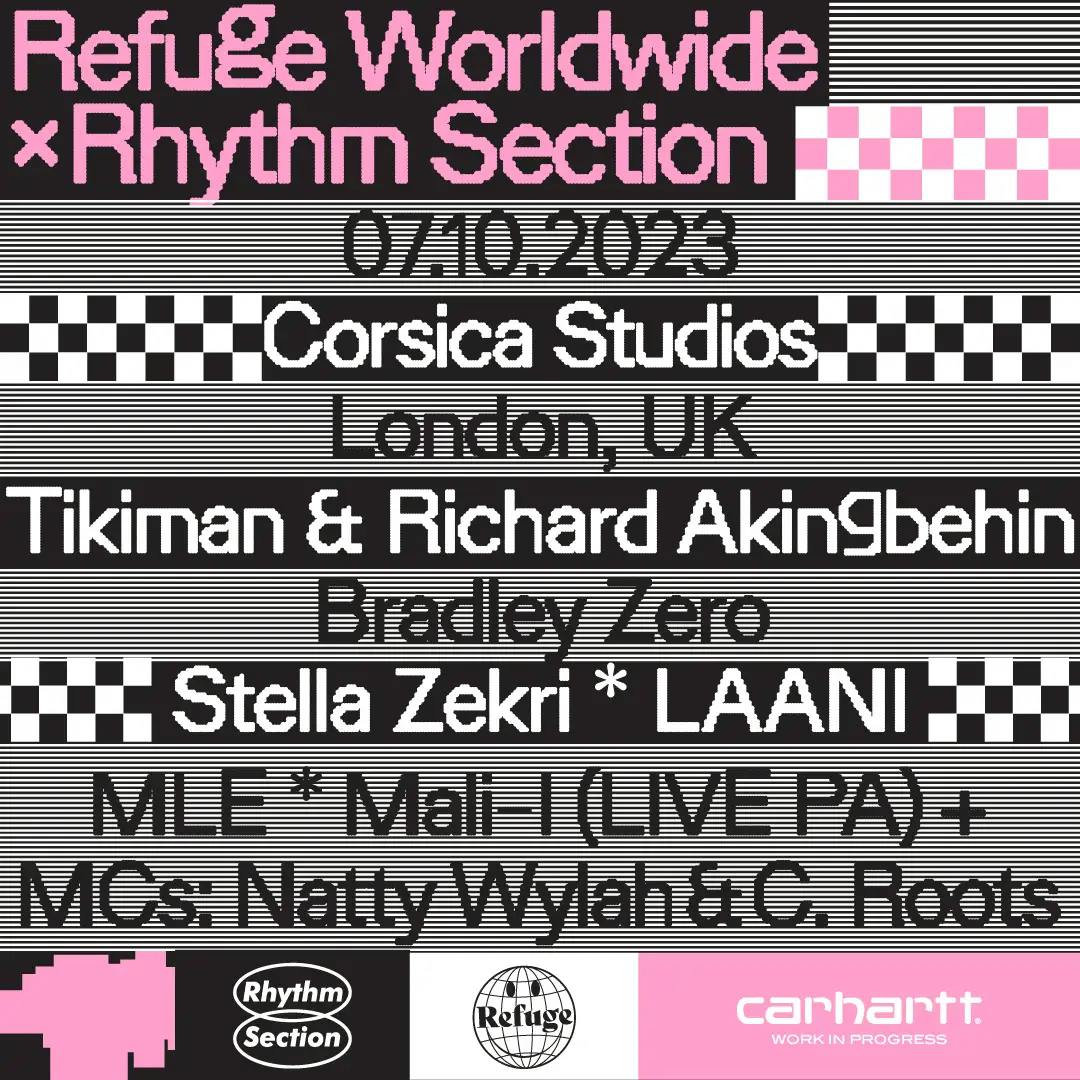 Early Bird (includes booking fee)

£11.5

1st Release (includes booking fee)

£14

2nd Release (includes booking fee)

£16

3rd Release (includes booking fee)

£18

Final Release (includes booking fee)

£20
Buy Tickets