Corsica Studios
Fri 21.10.22

2200—0500
Eris Drew presents Temple of Dreams
We want to keep the fire burning so "Temple of Dreams," Eris Drew's only residency worldwide, holds its second gathering on October 21st at London's Corsica Studios! Like the warehouse and loft parties from which Eris sprang in Chicago's Midwest, each room will have its own vibe. Room 1 will be dedicated to chaotic cuts, raw freestyle hip house, and juicy rollers while the speaker-walled sweatbox known as Room 2 will be an unpredictable techno throw-down heavy on the vibes.
Russell Butler, one of the most brilliant and important producers, DJs, and live performers to emerge from the underground in the States, will hold down Room 2 with Sayang, the incredible Northern DJ and sound artist, lauded for their QTIBIPoC/queer Disabled/Trans centered event Flesh In Tension. We can't wait to bear witness to the narratives and sounds these two artists will weave in our favorite speaker-walled sweatbox.
Room 1 and its newly installed soundsytem will be helmed by Bristol's Gallegos, one of the most inventive producers working today, known for his completely unique raw and emotional productions on Holding Hands, Slump and Room Service Records. Closing the night in Room 1 will be a special first-time all-vinyl b2b between London's rising star Angel d'Lite and Motherbeat devotee Eris Drew. Angel d'Lite lit a fire in Room 2 at the first Temple of Dreams, so to maintain the pressure the two DJ's decided to combine forces for a set of pure energy.
Over the course of a late night into morning, we will all turn Corsica into a Temple of Dreams. Please note: this event is not for the faint of heart. We plan to rave hard and to sweat it out on the dance floor. Loose fits are encouraged but not mandatory. Bring your child self. No judgment. No harassment. Intentional partying only.
Room 1

Eris Drew b2b Angel D'lite
Gallegos

Room 2

Russell E.L. Butler
Sayang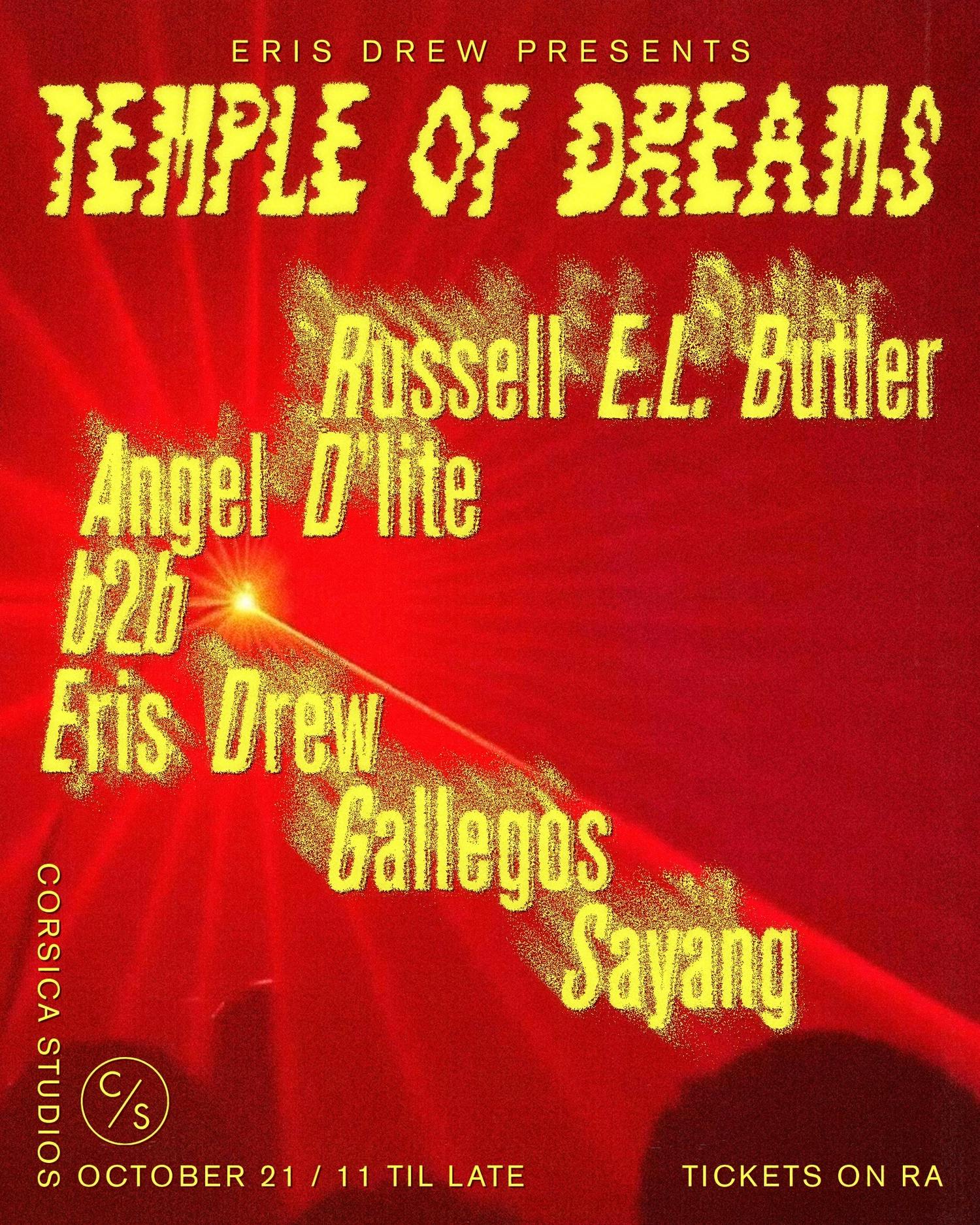 1st release

£6

2nd release

£12

3rd release

£18
Buy Tickets